Archived News-March 2009
---
Week 3
---
---
Thursday March 19, 2009
Daily Video Clip

Today's new video clip in the Movies Section is from one of your favorite Star Wars video games! The latest scene we have provided is the Lego Star Wars-Episode I-Ending from Lego Star Wars: The Complete Saga that was released November 6, 2007. Special thanks to TechOfficerTodd for capturing and sharing the cutscene! You can find this video clip in the Video Game Scenes section. If you have a movie clip or scene from any video game in a AVI, MOV, etc. format, please send it in! Enjoy!
---
Thursday March 19, 2009
Robot Chicken Star Wars 2 On DVD

DVDAactive has announced the release of Robot Chicken Star Wars 2. The video will be arriving on July 21st  and the price will run around $19.97. The 23 minute feature will be presented in full screen, along with an English 2.0 Stereo Surround track. Extras will include video commentary, an Animation meeting, Deleted Scenes, and a Behind the Scenes featurette.
---
Thursday March 19, 2009
Imperial Commando: 501st

The Official Star Wars Site has provided the first look at the upcoming novel Imperial Commando: 501st.
"The Clone Wars are over, but for those with reason to run from the new galactic Empire, the battle to survive has only just begun....
The Jedi have been decimated in the Great Purge, and the Republic has fallen. Now the former Republic Commandos -- the galaxy's finest special forces troops, cloned from Jango Fett -- find themselves on opposing sides and in very different armor. Some have deserted and fled to Mandalore with the mercenaries, renegade clone troopers, and rogue Jedi who make up Kal Skirata's ragtag resistance to Imperial occupation. Others -- including men from Delta and Omega squads -- now serve as Imperial Commandos, a black ops unit within Vader's own 501st Legion, tasked to hunt down fugitive Jedi and clone deserters.
For Darman, grieving for his Jedi wife and separated from his son, it's an agonizing test of loyalty. But he's not the only one who'll be forced to test the ties of brotherhood. On Mandalore, clone deserters and the planet's own natives, who have no love for the Jedi, will have their most cherished beliefs challenged. In the savage new galactic order, old feuds may have to be set aside to unite against a far bigger threat, and nobody can take old loyalties for granted.
Find out more in Imperial Commando: 501st, the sequel to Order 66, by bestselling author Karen Traviss. It is due out in paperback from Del Rey Books in October. Here's a first look at the cover art by Greg Knight."
---
Wednesday March 18, 2009
Daily Video Clip

The twenty-second episode and Season 1 finale of The Clone Wars will be airing on the Cartoon Network Friday at 9:00 pm. Enter Cad Bane! Here is the preview:

Hostage Crisis
---
Wednesday March 18, 2009
Ships Section Updated

Today I have updated the Ships Section with the Harrow-class Star Destroyer. You can get a listing of ships using their picture by type at the Capital Ships Section. Or, if you would like to see an alphabetical listing of all of our ships, vehicles, bases, and space stations, you can check out the Index. If you have a ship you would like to see me add, then e-mail me the request and I will do my best to add it for you. Enjoy!
---
Wednesday March 18, 2009
Jay Laga'aia In Live-Action Series?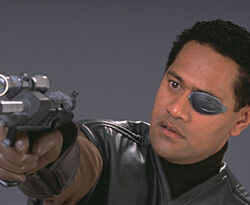 Scifiwire has an article that suggests veteran Star Wars actor Jay Laga'aia may appear in some form or fashion in the upcoming Star Wars Live-Action TV Series.

"New Zealand actor Jay Laga'aia is talking to George Lucas about a role in a live-action Star Wars television series next year, the New Zealand-based newspaper the Dominion Post reported.

Lucas had previously cast Laga'aia as Captain Gregar Typho, Amidala's head of security, in Star Wars: Episode II—Attack of the Clones and Star Wars: Episode III—Revenge of the Sith. It's unclear if he's in talks to reprise the role or to play a different one.

The series will reportedly follow the Rebel Alliance as it slowly gains strength against the the evil Empire. The newspaper also reported that the show is a basic cable TV series and that it will feature stormtroopers but not Jedi knights or Darth Vader. Lucas is currently casting for the series.

The fact that Laga'aia may be cast suggests that Lucas is considering shooting the show somewhere in Australia or New Zealand. Lucas shot parts of Episode II and III at Fox Studios in Sydney."

I would like to see some of these types of characters make a reprisal to bring continuity to the show.
---
Monday March 16, 2009
Daily Video Clip

The Old Republic Official Site has released their second Developer Dispatch video titled, "The Story and Setting."

"Set 300 years after the events of Star Wars™: Knights of the Old Republic™ and thousands of years before the rise of Darth Vader, the setting of The Old Republic is a relatively unexplored timeframe in the Star Wars™ canon. This allows a significant amount of freedom to create an epic storyline that will allow players to make ethical decisions and become immersed in their personal Star Wars saga.

Watch as the LucasArts and BioWare teams reveal how Story and Setting will enhance the player experience. "

Watch the latest video documentary for Star Wars: The Old Republic now!
---
Monday March 16, 2009
Vintage Mexican Trading Cards

Master Kal from SWCCMTY sent in word that they reviewed some vintage Mexican Star Wars Trading Cards. The particular set reviewed is the original Star Wars Blue Cards from 1978! They have information and pictures of the cards in this review. I really love all the vintage stuff. I remember getting those first Star Wars cards and I thought I was in heaven! To own scenes from Star Wars was so cool! Remember, there was no such thing as video back then for you youngsters. I bet the gum in those packs is real "chewable" these days. Nothing like eating a piece of brick... uh... I mean gum from a wax pack! Be sure to check it out!
---
Monday March 16, 2009
EUCantina Gets An Overhaul

Our good friends and fellow Sworians at EUCantina have gotten an overhaul. Here is what they had to say about the newest incarnation of the site:
"First off, you will find that besides a complete revamp to the front page, every page on the website has been changed in some way. Many feature brand new graphics in the unique EUCantina style. Head Graphic Designer, Ted M. created all banners, with the help of Stephen H. making the buttons. Special thanks to Brandon Phillips, who created the original version of the space slug banner, which resulted in the concept of everything you see here.
The only non-visual change is the addition of the search option on the sidebar. It will give results from all posts and pages, and makes it much easier to find an older piece of news.
We hope that you all enjoy the new version of EUCantina.net. Look for more improvements in the future, as EUC continues to bring the latest in EU news, interviews, and thoughts."
May the Force be with you,
EUCantina Staff
Be sure to head over and have a look!
---
Monday March 16, 2009
All About Mace Windu

The Official Star Wars Site has an interview with Terrence "TC" Carson about his voicing Mace Windu in The Clone Wars. StarWars.com chats with Carson about his voice work as Mace Windu in The Clone Wars, his Star Wars fandom, and if Mace could take the Sword Master from Afro Samurai in a duel. Be sure to read the entire interview.

Also, there is a cool article about all the different Mace Windu collectibles. Not just toys. Mace has actually managed to infiltrate the Star Wars product roster pretty thoroughly, with scores of toys, books, posters and other items all bearing his image. They have served up a few of our favorite pieces to remind fans that Mace isn't just the king of cool when it comes to Jedi Masters -- he's also a pretty cool collectible!